An End to End HIE Reference Architecture
HealthIT2's HIE reference architecture supports a federated view of the local environment but can also support a Centralized and/or a Hybrid business Model for efficiency and responsiveness to information queries. The architecture is easily extended and maintained so that evolution is facilitated and the needs of the business or clinical model mature. Implementation strategies would begin by building a subset of the services described and then add additional services as desired. By using a Service Orientated Architecture model that can link process components to software components, the architecture is more flexible and agile to the business needs.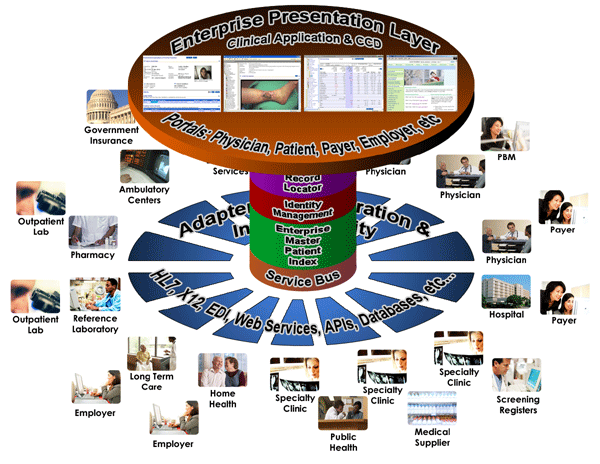 HealthIT2's Provider Portal provides a single view of the patient's clinical history, including trended data such as lab resluts. The Portal also enables the caregiver to add clinical information to the patient's record.
HealthIT2's HIE architecture leverages today's leading Java technology and open standards through the principles of Services Oriented Architecture and Composite Applications. This ensures that the system and services are extensible, re-usable, and maintainable. Services are implemented in a loosely coupled manner and are orchestrated with a BPEL-driven Business Process Manager. The entire infrastructure is a single vendor solution, with a single development / design environment and single monitoring environment.
Scalability
HealthIT2's HIE is built on the industry's most scalable, distributed platform. We are able to scale the application and database to any number of systems, both physical and logical, across any number of data centers. Management tools provide performance diagnostics and automatic alerts when thresholds are hit. Clients are offered the greatest flexibility to scale up and out.
Assigning additional hardware resources is simple – the new host only needs an application server. Once the application server is turned on, a deployment profile can be altered to include the new host in the distribution. All of this is done out of the box with our GUI tools.
Interoperability
HealthIT2's HIE solution embodies the most current interoperability standards including support for HL7 2.x, HL7 3.x, CCR/CCD, HIPAA X12, IHE, NCPDP, XML, Web services, and more. Many of the largest payers, providers, governments and healthcare vendors trust HealthIT2's solution to work amongst a wide variety of disparate systems. HealthIT2 is the industry leader in open standards and interoperability.
Experience
With two decades of specific healthcare industry experience, we are veterans in this space and are highly trained to insure our clients' projects meet and exceed all stated Goals and objectives.